On our last check-in, I mentioned working on some finishing features and then moving onto videos. WELLLLLLLLL as it turns out, during that time a nifty article popped up across my RSS feed that I could not archive:
Deadline extended: Apply to Startup Battlefield at TC Disrupt 2021
Extended?! Not by one but by TWO weeks? I started to look at the dates and schedule, and a butterflies-in-the-belly notion started to take hold: could I possibly conceive submitting an application to the tippy-top of all tech events and jump for the improbable if not impossible?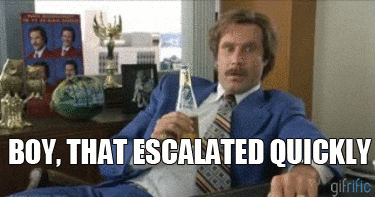 There's also the fact that the product isn't even in alpha yet (but should be by the event), is it too soon?! Am I even the right candidate here?! SO MANY QUESTIONS. SO MUCH UNKNOWN. Must find out more. :)
Ultimately, such an opportunity will make me a stronger person, and that's really what forced me to accept the challenge. Plus, I will get an opportunity to talk about what I have been working on for the past year and a half, starting with this very blog post. PLUS PLUS, if accepted there is a free subscription to Extra Crunch to boot which the frugal demon in me has been fighting against purchasing for months now. NEVERMIND THE $100K, NOT HAVING TO PAY A MONTHLY FEE FOR A YEAR IS WHAT I AM HERE FOR!!!
OK, let's give this a shot. WHY NOT? (don't answer that)
Content
To start, I put together a little blog post that outlines a little where my thinking is these days:
Bonus Content
But that's not all! I managed to squeeze out a few more articles throughout this week and more. I AM ON A ROLL HERE:
OK now onto the good stuff. As part of the application, it asks for "less than 60 seconds" of the founder speaking about the product. Hey there, it's ME!
Introduction
(Yes, a not-so-subtle shout out in there. 😁)
Demonstration
Finally, there was an ask for a 2-minute demonstration of the product. Trust me, this is barely scratching the surface:
(Music graciously provided by Magnus – check out more here!)
Additionally, this process accelerated my incorporation time, which I was originally circling around August but now I am officially incorporated as of May 18, 2021, courtesy of Gust (recommended by Northern Michigan Angels who I am interested in connecting with as well).
So there you go. A little bit of what I am working on and how I feel about the space lately. Thank you for any consideration!